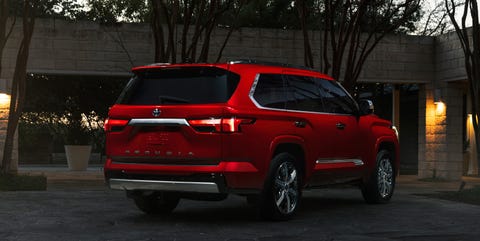 Toyota
After a lengthy 15-year run for the second-generation Sequoia SUV, Toyota has introduced an all-new third-gen version based on the recently revamped Tundra pickup. While it's a solid improvement over the outgoing Sequoia, the new model doesn't raise any standards within its hotly contested segment.
Read the full review
1 of 50
The 2023 Sequoia SUV sports a ruggedly handsome new look that's inspired by the company's recently redesigned Tundra full-size pickup.
2 of 50
The Sequoia's maximum towing capacity is significant, ranging from 9020 to 9520 pounds, depending on the model.
3 of 50
Also shared with the Tundra pickup is the Sequoia's standard twin-turbo 3.4-liter V-6 hybrid powertrain, which makes a stout 437 horsepower and 583 pound-feet of torque.
4 of 50
A squared-off grille, muscular body sides, and nicely styled wheels gives the Sequoia a fresh appearance.
5 of 50
We appreciated the Sequoia's smooth ride, but the rest of its on-road driving dynamics make this SUV feel every bit as large as it is.
6 of 50
An off-road-oriented TRD Pro trim tops the lineup and offers an electronically locking rear differential, 18-inch forged BBS wheels wrapped with 33-inch tires, Fox dampers, and a multi-terrain drive mode system.
7 of 50
Most drivers likely will be drawn to the grander Limited, Platinum, and Capstone (pictured) models, which offer more luxury-oriented accommodations and a quiet cabin.
8 of 50
Passenger headroom in the Sequoia's second row of seats, as well as head- and legroom in its third row, are rather tight for a full-size SUV.
9 of 50
The Sequoia's cargo area offers a limited amount of space when the third row is in use, and that wayback row doesn't quite fold flat into the floor.
10 of 50
Overall, the Sequoia is much improved in many important areas, but many of its competitors have already begun to advance beyond it.
11 of 50
2023 Toyota Sequoia Limited
12 of 50
2023 Toyota Sequoia Limited
13 of 50
2023 Toyota Sequoia Limited
14 of 50
2023 Toyota Sequoia Limited
15 of 50
2023 Toyota Sequoia Limited
16 of 50
2023 Toyota Sequoia Limited
17 of 50
2023 Toyota Sequoia Limited
18 of 50
2023 Toyota Sequoia Limited
19 of 50
2023 Toyota Sequoia Limited
20 of 50
2023 Toyota Sequoia Limited
21 of 50
2023 Toyota Sequoia Limited
22 of 50
2023 Toyota Sequoia Platinum
23 of 50
2023 Toyota Sequoia Platinum
24 of 50
2023 Toyota Sequoia Platinum
25 of 50
2023 Toyota Sequoia Platinum
26 of 50
2023 Toyota Sequoia Platinum
27 of 50
2023 Toyota Sequoia Platinum
28 of 50
2023 Toyota Sequoia Platinum
29 of 50
2023 Toyota Sequoia Platinum
30 of 50
2023 Toyota Sequoia Platinum
Advertisement – Continue Reading Below
This content is created and maintained by a third party, and imported onto this page to help users provide their email addresses. You may be able to find more information about this and similar content at piano.io