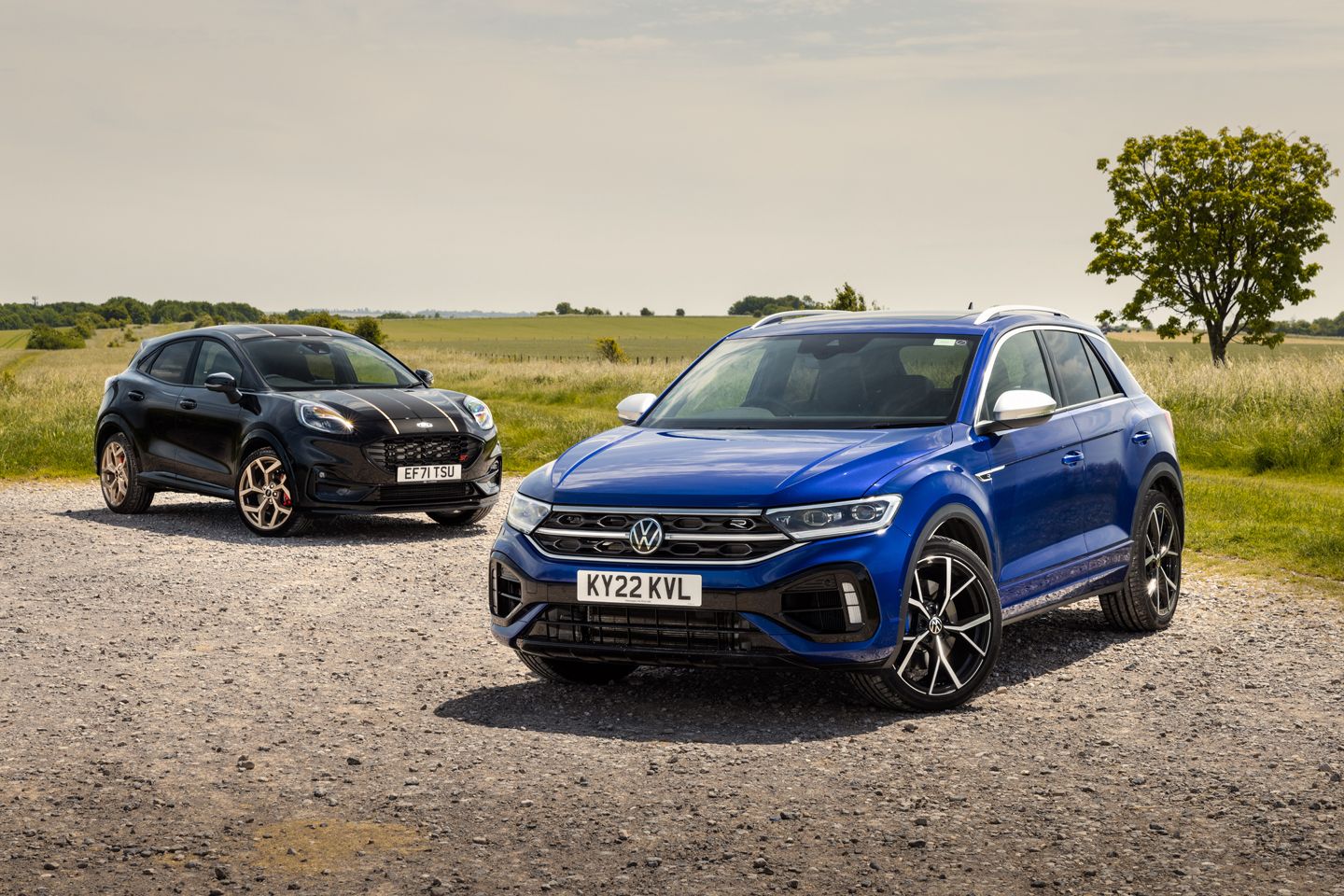 There's no fighting it: the super sporty compact SUV is going nowhere. The downfall of the three-door Fiesta is proof enough of that. Of course there are other factors involved, but the rising popularity of the Puma is certainly among them. Before too long the Focus will likely be retired, as well. No matter the cost effectiveness or innately better efficiency of the conventional hatchbacks; the public has spoken. And who are we to argue? 
The upside to this rapacious appetite is that carmakers have invested much time and effort in making the crosseyed concept of a fast crossover work properly. Anyone who had the displeasure of the sampling the industry's initial efforts (Nissan Juke NISMO, anyone?) will know just how far the compact class has come in a decade – no matter which end of the market you choose to enter it from. 
If the current iterations of Volkswagen T-Roc R and Ford Puma ST seem familiar, that's mostly because they are. The VW has been updated for 2022 with small revisions inside and out, while the Puma is here in Gold Edition format, a 999-car production run with spec chosen by Ford enthusiasts via an online competition. So, yes, that is a black Puma with gold stripes, gold wheels and red calipers – rather fetching it looks in the metal, too. Ultimately, though, these are mechanically identical to launch a few years back. The more expensive T-Roc R does without the Mk8 Golf R's additional power and torque vectoring ability, meaning it remains at 300hp and with conventional front-to-back Haldex all-wheel drive – although, with the mandatory seven-speed DSG, that means 0-62mph in less than five seconds and 155mph.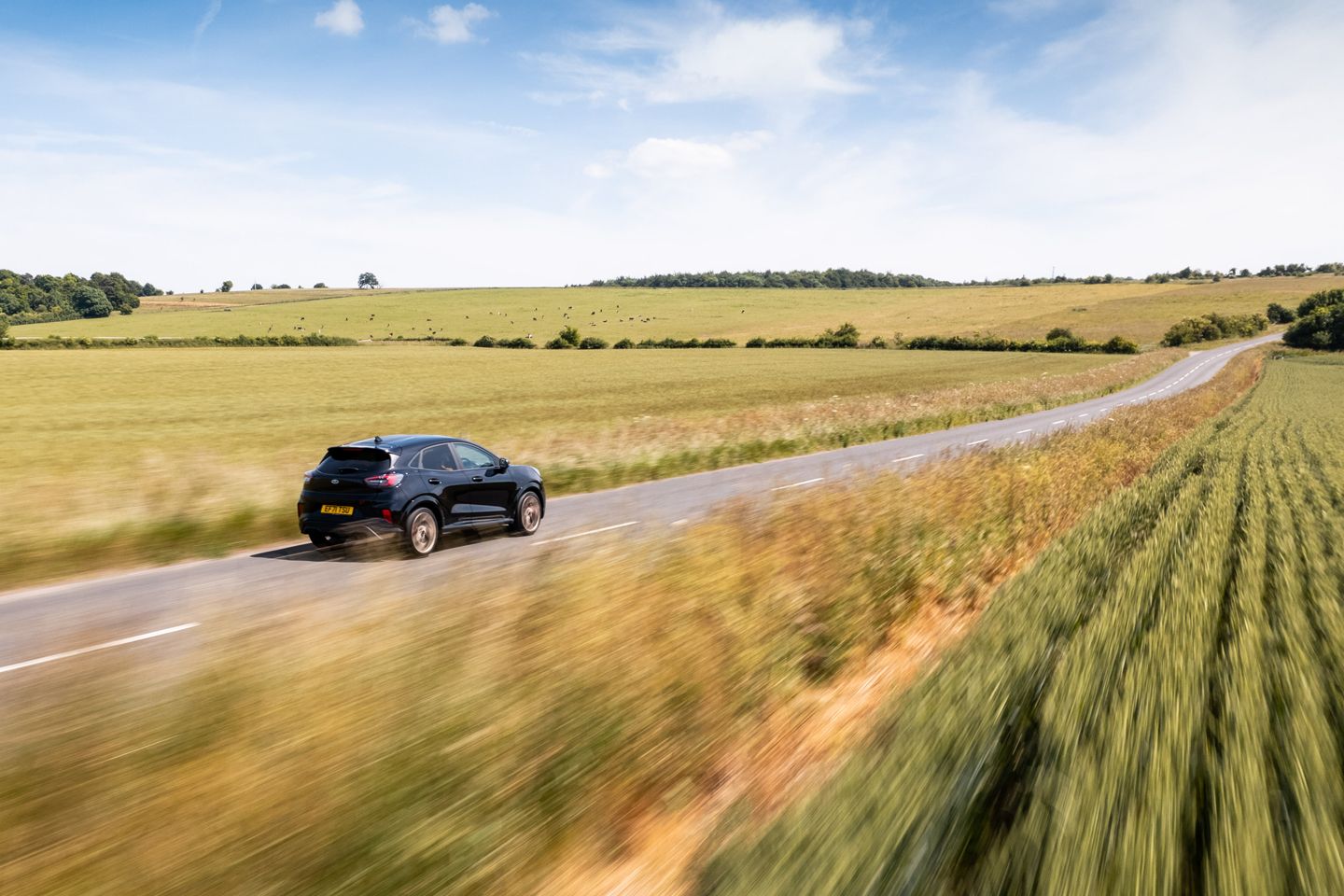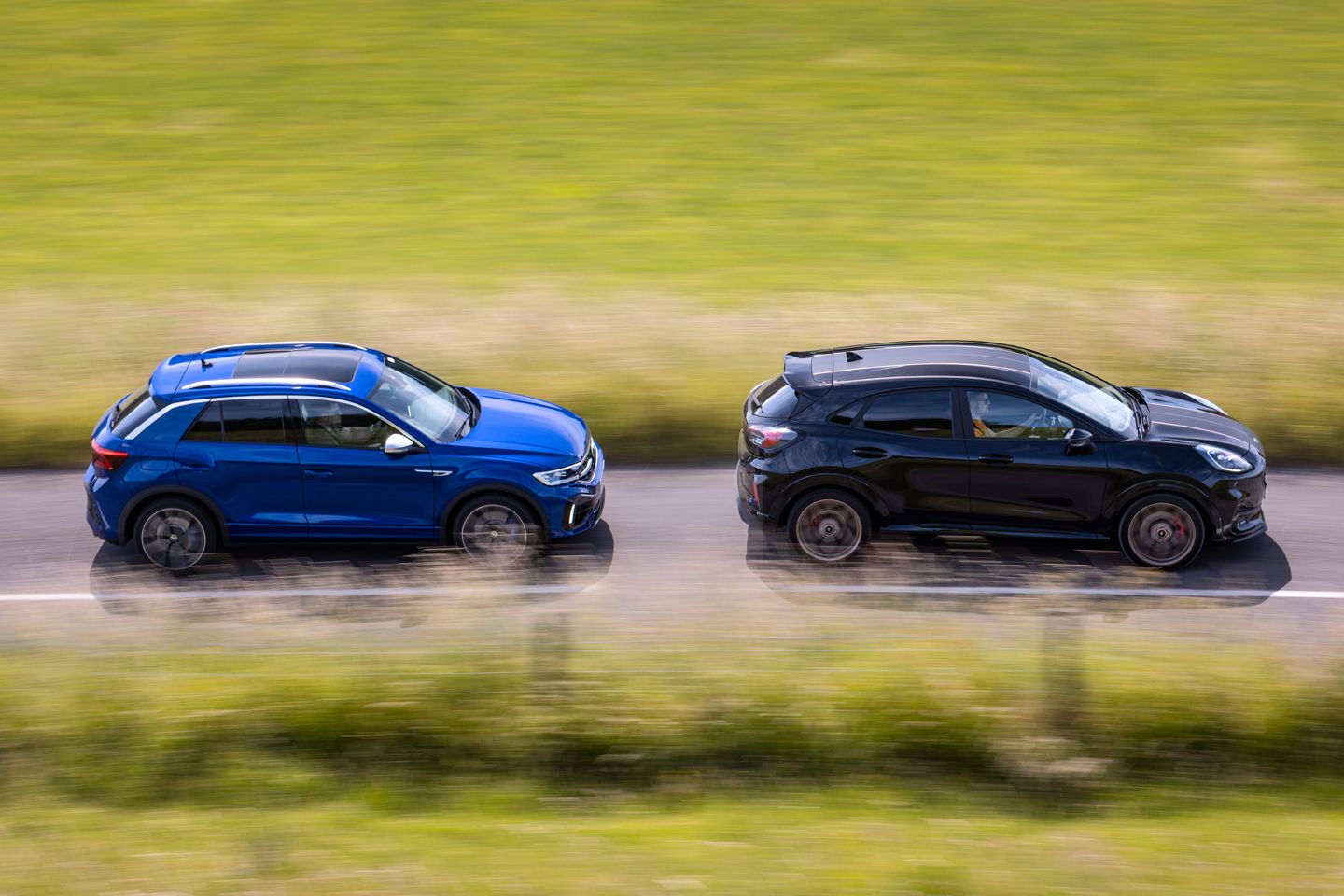 The Ford, too, misses out on some updates that have benefitted the supermini equivalent – specifically the KW coilovers found aboard the Edition Fiesta STs – though that might not necessarily be a bad thing given how firm the Puma was to begin with. It still makes 200hp from a 1.5-litre turbo triple, and with a standard six-speed manual will scoot to 62mph in less than seven seconds. The price and performance gap mean VW and Ford aren't eye-line rivals, but they are the cars vying for best-in-class honours, nevertheless. 
Moreover, judged on size alone they're actually not far off one another, the  VW being only 10mm longer than the Ford's 4,226mm. The T-Roc is a tiny bit taller and wider, too, with better headroom for rear seat passengers, a practicality deficit the Puma claws back with more boot space thanks to the MegaBox. Certainly this puts them in the same family-friendly ballpark, if that's a concern. But obviously we're here to figure out which one cuts the mustard in the driving department – because that's the one we're inevitably going to pin a 'PH recommended' medal on. 
As is so often the way with these things, there's nothing like a fast VW as a baseline when it comes to class-based comparisons. So assured is the T-Roc's performance across the board that it doesn't really put a foot wrong in the real world. The latest model even has an interior that won't drive you to distraction, the logical old design merely updated with haptic buttons rather than ditched wholesale. It would be hard to call this an improvement on what preceded it, but the T-Roc's interior is better than a Golf's – which is a huge advantage straight off the bat. There's plenty of other well thought out stuff, too, with a supportive seat in a decent driving position, a steering wheel that's nice to hold (if a bit button heavy) and big gearshift paddles. Perhaps some plastics are scratchy, but the T-Roc remains a pleasingly premium place to sit.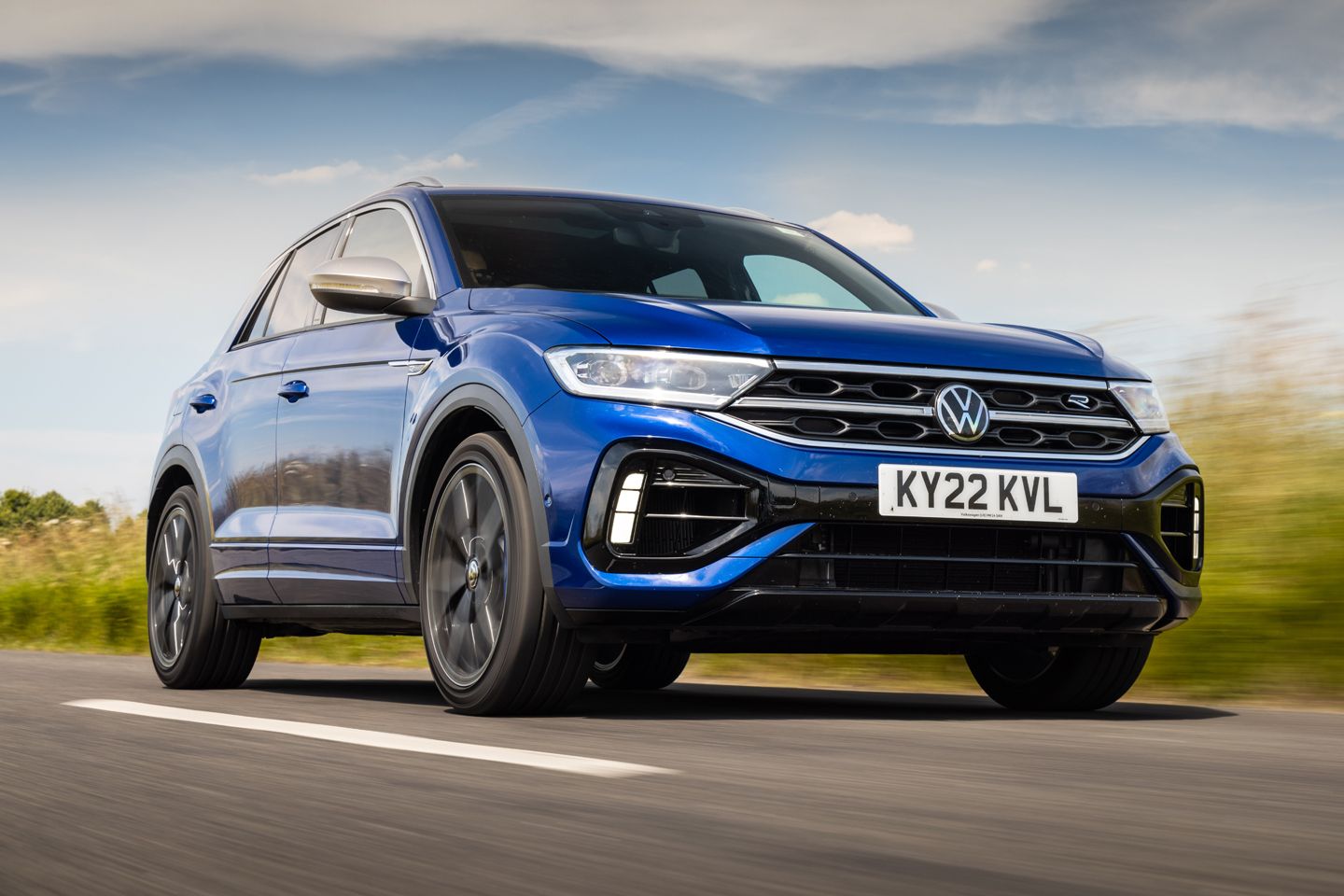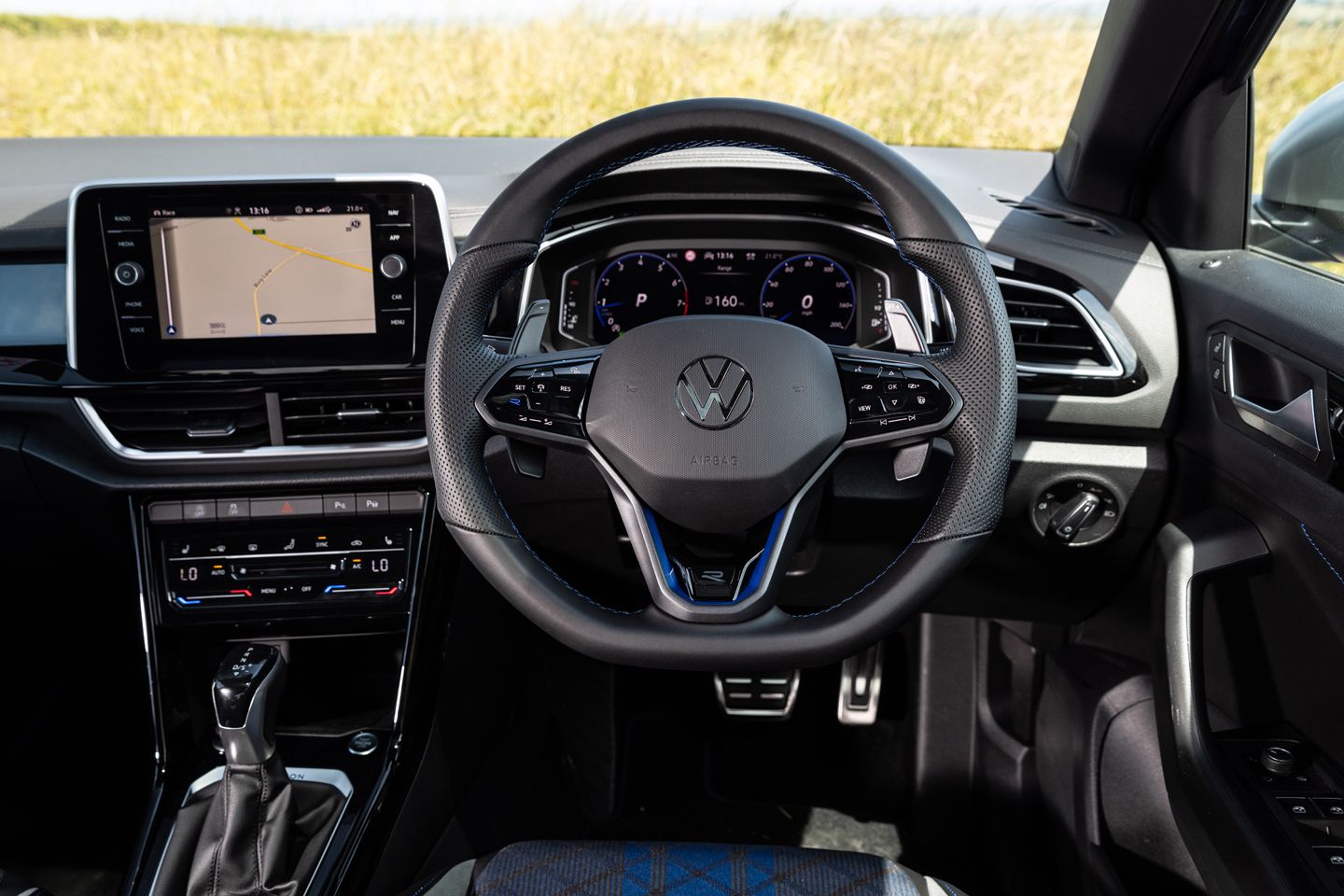 On the road, the R seems very familiar. Against a Mk8 Golf R it perhaps doesn't share the newfound vigour of more sophisticated tech, but this is still a really smart handling car. Big 19-inch wheels pushed out as far as they can go are great for the T-Roc's stance, and it means the R feels both stable and agile. To call it exciting remains a stretch, yet the R is satisfying to send along a road because everything remains in sync with your expectations; there's no second guessing what effort the steering needs or what the front end will do, and being so small makes it seem very wieldy on B roads. The traction, of course, is unimpeachable. The T-Roc isn't a car to learn how to get the best from over time, though it is one that has benefitted from more than just a big engine dropped in and another coat of Lapiz Blue paint daubed on. Even wound up to its most aggressive drive mode, the R version retains civility and composure, which memory suggests it didn't always do – so perhaps there's more to this facelift than VW is letting on. Or we've got used to cars riding harshly… 
It's a shame, then, that the powertrain no longer feels to be getting the best from a decent chassis. Granted, VW has lots of places to spend its development cash now, and the increasingly niche combination of fiery four-cylinder combustion engine and seven-speed auto isn't high among its priorities – but it's noticeable the extent to which the latter is now found wanting. The DSG just feels a tad sluggish in 2022, never urgent enough left to its own devices or with manual control, making the car feel slower than it really is because the responses are dulled. The changes themselves are actually pretty brisk (and the upshift parp from the Akrapovic exhaust is still  childishly entertaining), yet they are prone to arrive at an inopportune moment. Which is a shame given the apparent willingness of the surrounding car. 
Willingness is all relative, however. Switching VW for Ford is like switching tag rugby for Aussie Rules; on paper they're actually quite close, but the experiences are a world apart in terms of adrenaline. The Puma steers like a remote controlled car, darting this way and that as if you were flicking controller stalks. Yet such is the alertness of the chassis that its hyperactivity feels natural after a couple of frenzied minutes, front-end fight and all. Moreover, beyond the initial firmness, there is a sense of real quality in the running gear – of exactly the sort that highlights the VW's shortcomings.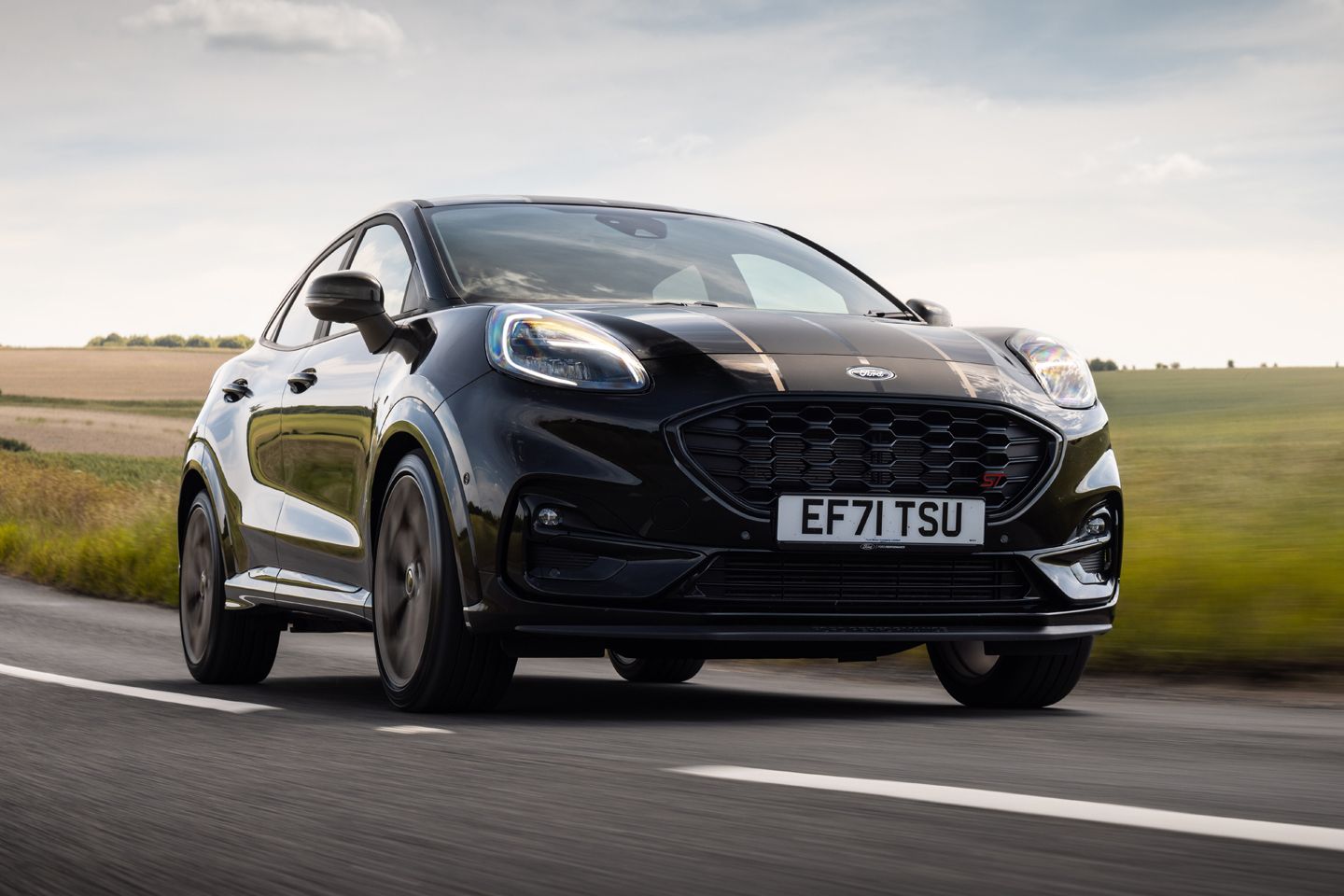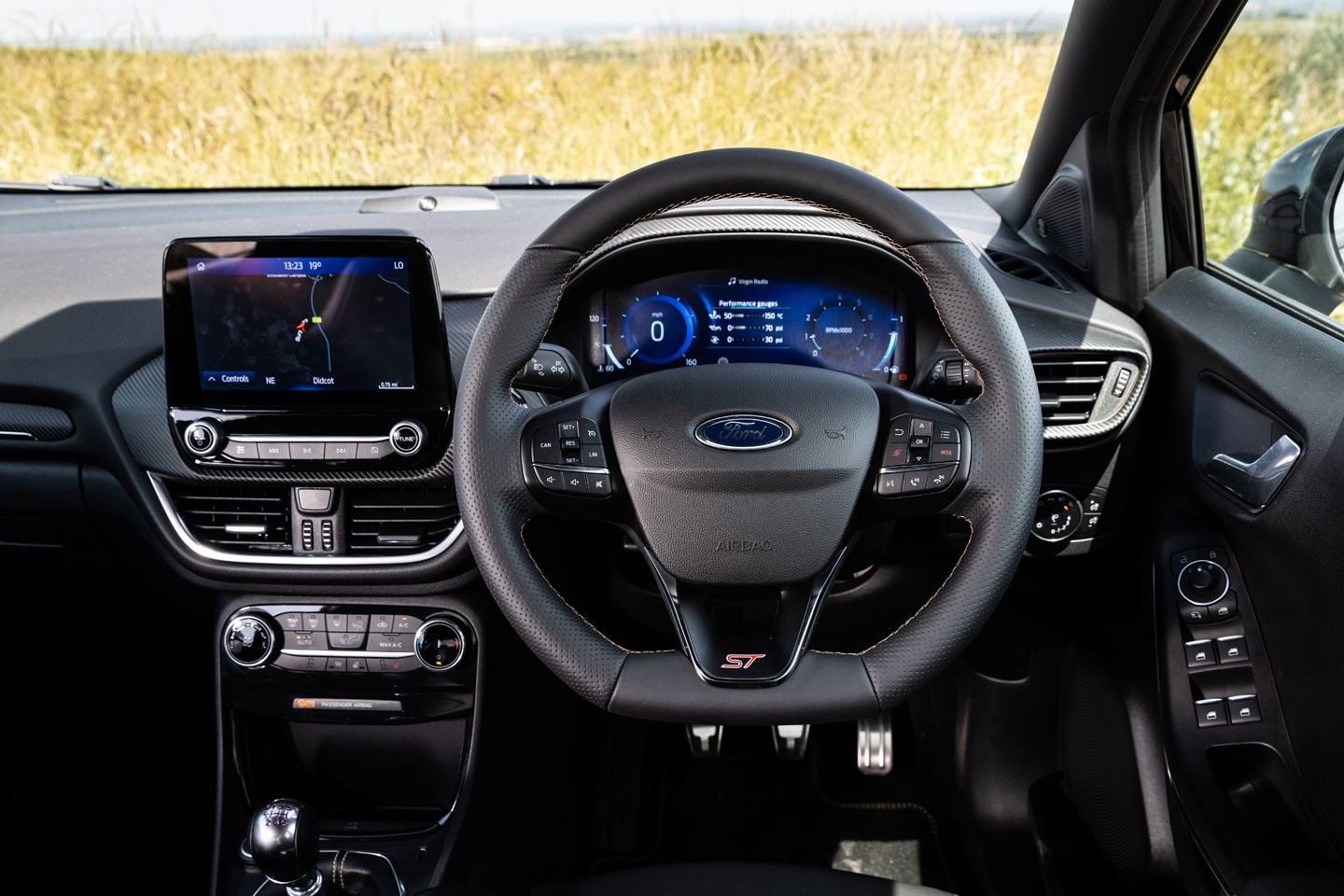 Where the T-Roc can become flustered over successive bumps or quick direction changes, the Ford laps up rough treatment, goading you into a bit more speed and a little less caution as you flit from corner to corner. Even with its dampers as taut as they'll go, the VW can feel to be playing catch up with wheel and body movements, whereas the Puma is seemingly never fazed by whatever the road throws up – or by your attitude toward it. It's very, very cleverly done, far more than just sporty stiffness for the sake of it, and means the Ford isn't that much slower down a road than the on-paper performance numbers might suggest.  
Weight, you won't be surprised to hear,  plays a crucial part in all this. The VW's four-wheel drive system and DSG (and nicer interior) contribute to a 1,575kg DIN kerbweight, which is without any occupants. Ford quotes 1,358kg with a driver, which is a huge difference given the cars are literally separated by a centimetre in length. Hence the way the Puma goes about its business, displaying much the same Fiesta-like spriteliness that has eluded successive generations of heavier-set VWs, when braking, cornering or accelerating. The trade off, predictably, is a more refined mile munching when required. The ST cannot settle into an outside lane groove like the T-Roc. Crossover or not, the brand stereotypes persist. 
Not that the Ford is bad over long distances, and – from where we're sitting – its slightly less mature motorway manners do seem a fair trade off for the entertainment on offer. In fact, the more time you spend with the Puma, the more you're inclined to think that keeping this close to Fiesta levels of fun might be a superior engineering achievement to making the hatch so good in the first place. In start contrast to the VW, the powertrain remains a treat, too. Sure, the 1.5-litre triple is inevitably laggier than the 2.0-litre EA888 in the VW, but it rewards with some real turbo rush further around the dial, and a much more gratifying soundtrack. It seems three cylinder are a lot easier to enhance to good effect than four. Even a bad manual would be satisfying after the slightly torpid DSG, but the Ford's is especially good: short-throw, well-weighted, accurate and slick – even if it mounted a mite lower than would be ideal.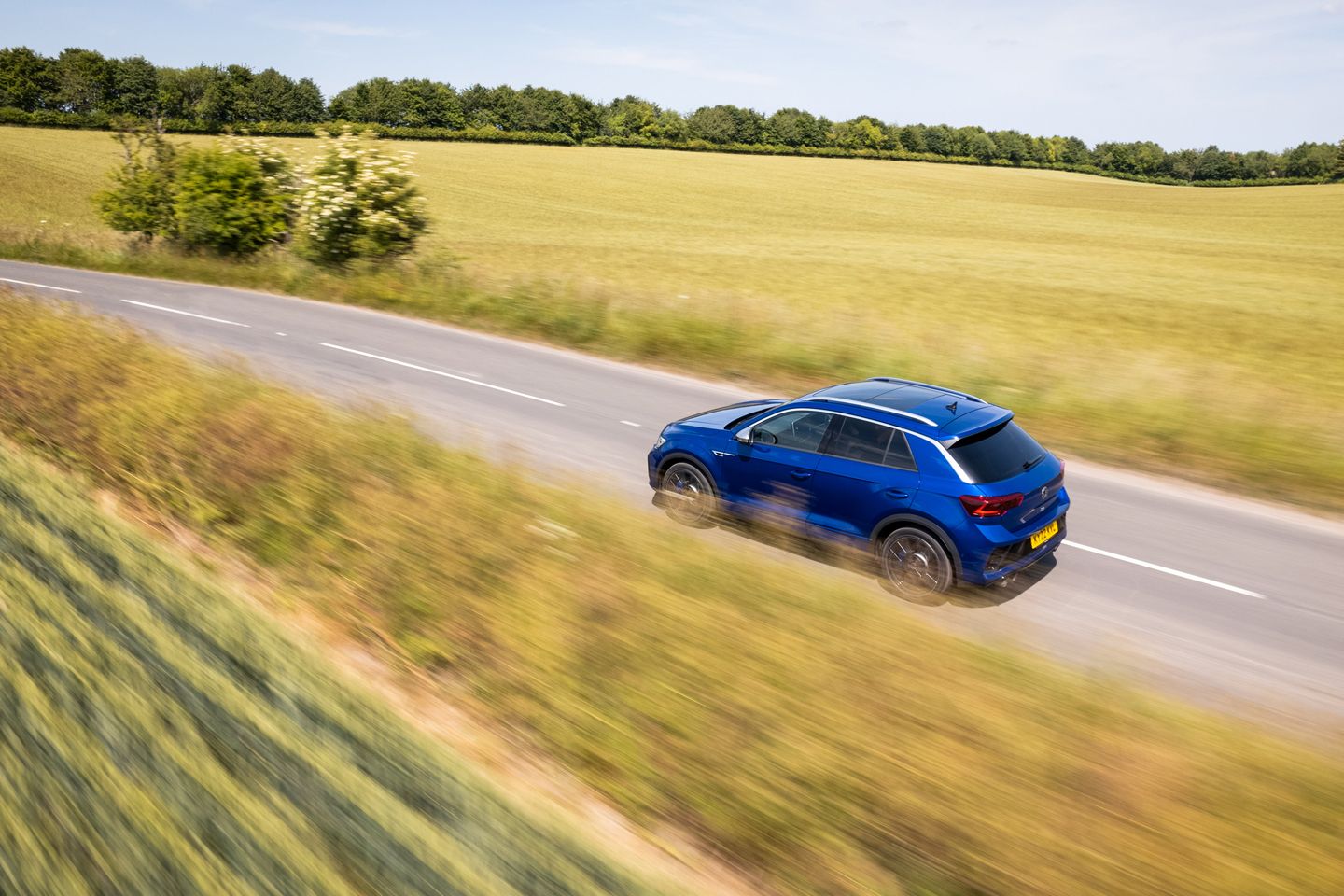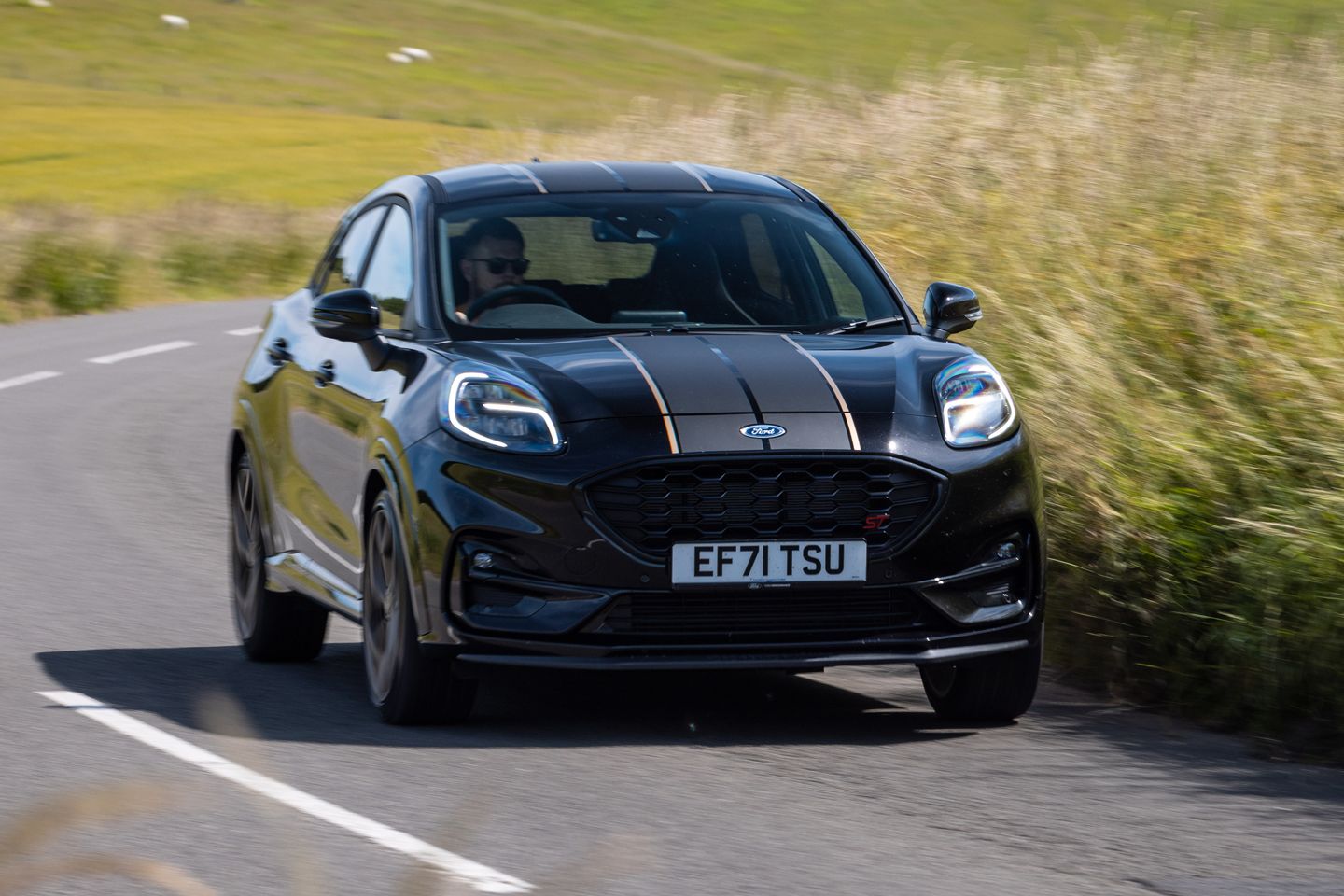 Of course, none of this threatens to overshadow the T-Roc completely. The VW way is too well-judged for that. No one could argue that it doesn't nail the brief: for the vast majority of buyers it is going to be fast enough, sporty enough and engaging enough for their first foray into fast SUVs. Not for nothing, but it feels quite a lot like an old Golf R, and we know how popular that was – mimicking that experience in a more modish body made complete sense when new, and still does now.  
But some things never change. We don't necessarily represent the majority, and in not putting a foot wrong the T-Roc doesn't exactly win you over, either. For all the current Golf R's flaws, the R-Performance Torque Vectoring adds a new dimension to the handling that's missing here. The T-Roc is good, but only as good – maybe a touch better – as the hot hatch was in 2015. The Puma can't claim to mimic its broader, buttoned-down persuasiveness, certainly not in this specification, at any rate – but its zany edge will only make it more alluring to the committed few. 
Obviously you'll have to sacrifice some all-weather ability (which felt much less of a concern approaching the summer solstice than it will the winter one), a chunk of outright speed and a little headroom, but the trade-in isn't significant enough to overturn the Puma's dynamic advantage or its near £10k saving on sticker price. There's also some appeal to the idea that Ford hasn't hit the fast compact crossover target as squarely as VW; to many if not most, the idea of a three-pedal, mildly torque steer corrupted, non-AWD, non-spacious SUV will make precious little sense. Which only confirms that, against all the odds – and probably a superior business case – the Blue Oval has endeavoured to faithfully transplant what made the ST recipe special in the first place. The result is probably not for everyone. But we're yet to try a better example of its kind.
SPECIFICATION | 2022 VOLKSWAGEN T-ROC R
Engine: 1,984cc, four-cyl turbo
Transmission: 7-speed dual-clutch automatic, all-wheel drive
Power (hp): 300@5,300rpm
Torque (lb ft): 295@2,000-5,200rpm
0-62mph: 4.9sec
Top speed: 155mph
Weight: 1,578kg (unladen weight)
MPG: 33.2 (32.1 on 19-inch wheel)
CO2: 194g/km (199g/km on 19-inch wheel)
Price: £41,750 (price as standard; price as tested £50,725 comprised of Lapiz Blue paint for £825, Panoramic sunroof for £1,150, 19-inch Estoril wheels for £765, Winter pack (heated front seats and washer jets) for £295, Dynamic Chassis Control for £975, Rear view camera for £275, Akrapovic titanium exhaust for £3,545, Discover Pro nav for £640, Meta Trak S5 VPS Tracker (including one year subscription) for £505)
SPECIFICATION | 2022 FORD PUMA ST GOLD EDITION

Engine: 1,497cc, turbocharged 3-cyl
Transmission: 6-speed manual, front-wheel drive
Power (hp): 200@6,000rpm
Torque (lb ft): 236@2,500-3,500rpm
0-62mph: 6.7sec
Top speed: 137mph
Weight: 1,358kg
MPG: 41.5 (WLTP combined)
CO2: from 155g/km (WLTP)
Price: £32,595 (price as tested £33,195 comprised of Driver Assistance Pack for £600)