The 2022 Audi Q5 crossover SUV is a wonderful day-to-day SUV and backyard barnstormer in the sporty SQ5 edition. The Q5 is Audi's mid-size, five-seat crossover SUV, flanked by the smaller Q3 and the bigger Q7/Q8 duo. With its hybrid and sporty editions, the Q5's an all-around player that rivals vehicles like the BMW X3, Mercedes-Benz GLC, Volvo XC60, and Acura RDX.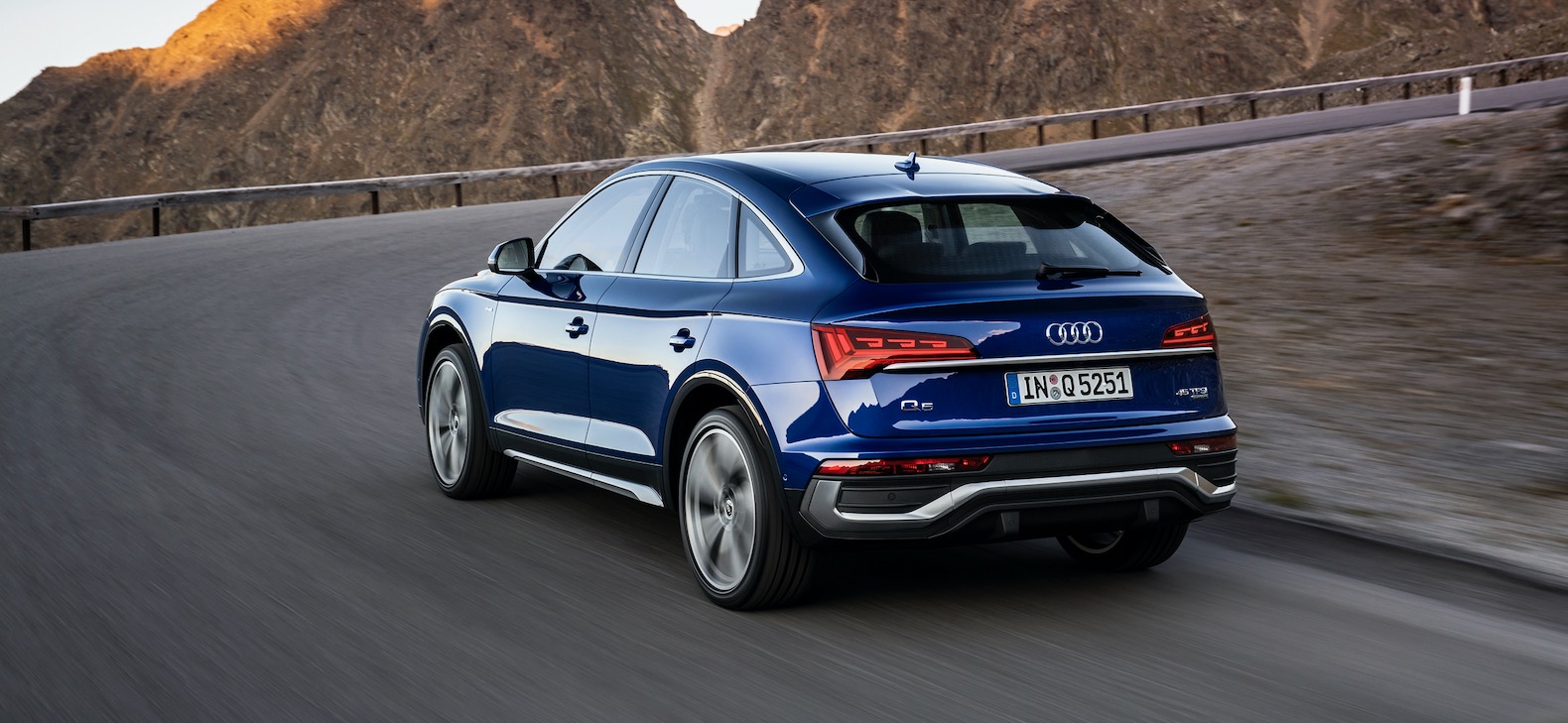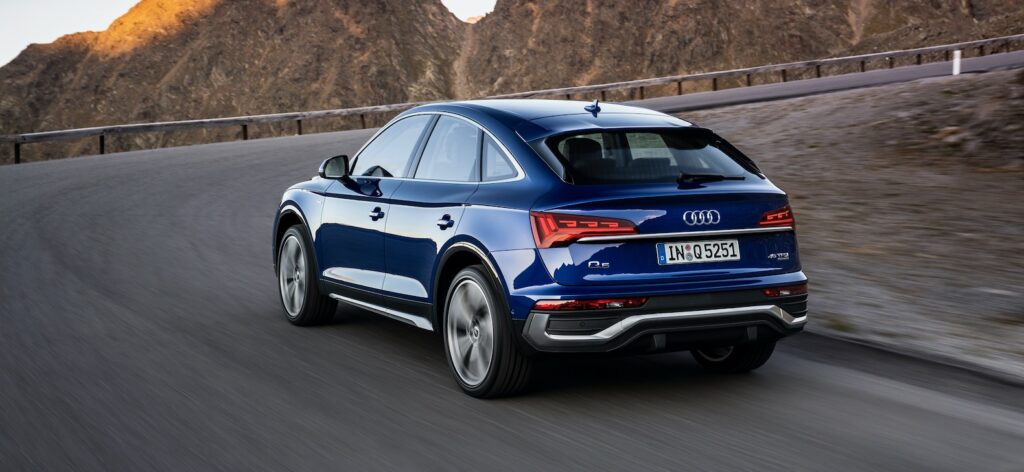 Mostly carried over for 2022, the Q5 returns in 45 TFSI, 55 TFSI e, and SQ5 trims, with standard and Sportback body styles. It now comes with a standard S line body kit, and offers a Black optic package with 20-inch wheels, while plug-in hybrids cars get standard sport seats. Hybrids get a bigger battery, up from 14.1 kwh to 17.9 kwh.
The Q5 evokes a stronger sense of style as a Sportback than it does in its standard-issue SUV togs. It wears a strong crease down its sides and a low, heavily embossed grille that balance better with the Sportback's sleek roofline. More conservative than either the BMW X3 or the Mercedes GLC, the Q5 has a shape that sits in the middle of them, more softly rounded than the BMW, less evocative than the GLC. The latest Q5 body wears creases and folds that would have been anathema to Audis of a decade ago. It speaks the same visual language as Audis past and present, but the dialect sounds less elegant.
It's more than pleasantly quick and All versions of the Q5 come with all-wheel drive. Base Q5's get a 2.0-liter turbo-4 (the "45" model) quoted at 261 hp, and coupled to a 7-speed dual-clutch automatic transmission and all-wheel drive. Audi posts a 0-60 mph time of 5.7 seconds for this model, brisk for an entry-level crossover SUV. This version has the ride and handling we've come to expect from Audi crossovers: engaging if not athletic, firmly sprung but not harshly tuned, softly responsive to steering inputs.
The plug-in hybrid "Q5 55 TFSI e quattro" taxes even a full box of Alpha-Bits as it couples the turbo-4 to an electric motor and a 17.9-kwh lithium-ion battery, uprated from last year's 14.1-kwh pack. Last year's version checked in at 362 hp net, teamed with the same all-wheel-drive system and 7-speed as other models, and was EPA-rated at 19 miles of electric-only range. Audi set its acceleration times at 5.0 seconds to 60 mph. We'll revisit this section when 2022 info has been confirmed, but our impressions of the '21 model were that it was easily the best powertrain with great power and electric ability. We're curious how the bigger battery changes things.
That SQ5 returns with its 349-hp 3.0-liter turbo-6, 8-speed automatic, and standard all-wheel drive. Audi clocks a 4.7-second 0-60 mph time, and the SQ5 feels it, with a surge of torque at relatively low rpm. Sitting about an inch lower than other Q5s, it also sports an air suspension, with options for variable-ratio steering that's overly light at low speeds but suitably taut at a faster clip, and a rear limited-slip differential. It earns high praise for its stability and its sure-footed grip, but the big wheels (21s are available) turn its ride too choppy even with the available air suspension. You'll miss the base Q5's fluidity in rush-hour commutes, but the SQ5 will have you looking for the next corner when traffic thins.
The tech-heavy cabin is lighter on personality. Audi perches a 10.1-inch touchscreen on the dash, and sells a 12.3-inch screen that replaces conventional gauges, for a pixelriffic interior that exudes quiet confidence with its leather and metallic trim. The use of textured surfaces, like the faux-carbon pieces on the SQ5, lifts the interior out of the black-on-black rut; so do the available beige and brown interiors, but there's nothing wild like the royal blue leather found in some Korean and American SUVs.
The Q5 seats four adults well and we've found both the base heated front seats in the stock Q5 and the plushly padded sport seats in other models to fit our forms well. All versions wear leather, but the upgraded thrones have more adjustment and cooling. The Q5's cabin is spacious enough for 6-foot-tall front passengers, and storage abounds in the door pockets and a console tray that's perfect for keys; fancier versions add a rubberized pad to the tray that hides heated and cooled cupholders.
Three wide adults may be too much to ask of the rear bench, but medium builds will fit fine. They'll enjoy 38 inches of legroom, enough for bigger bodies or longer legs or both, and well-shaped cushions that offer the support usually lacking in back seats. The Q5 has about 27 cubic feet of space behind the back seat, but the rear seatbacks fold down to boost cargo space to about 60 cubic feet. It's a small qualm in an otherwise well-composed cabin, one fashioned from high-grade materials with tight gaps and smooth finishes.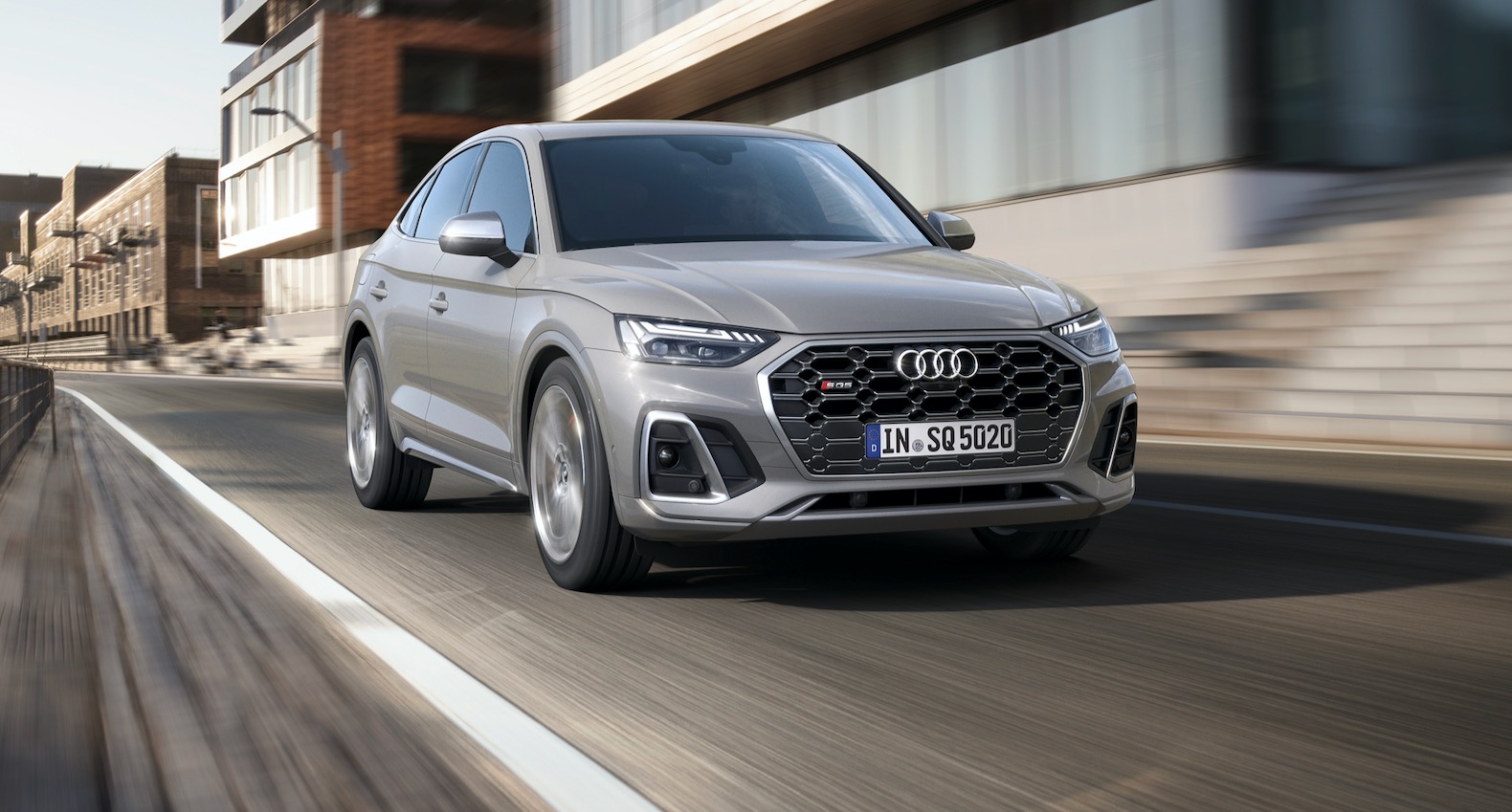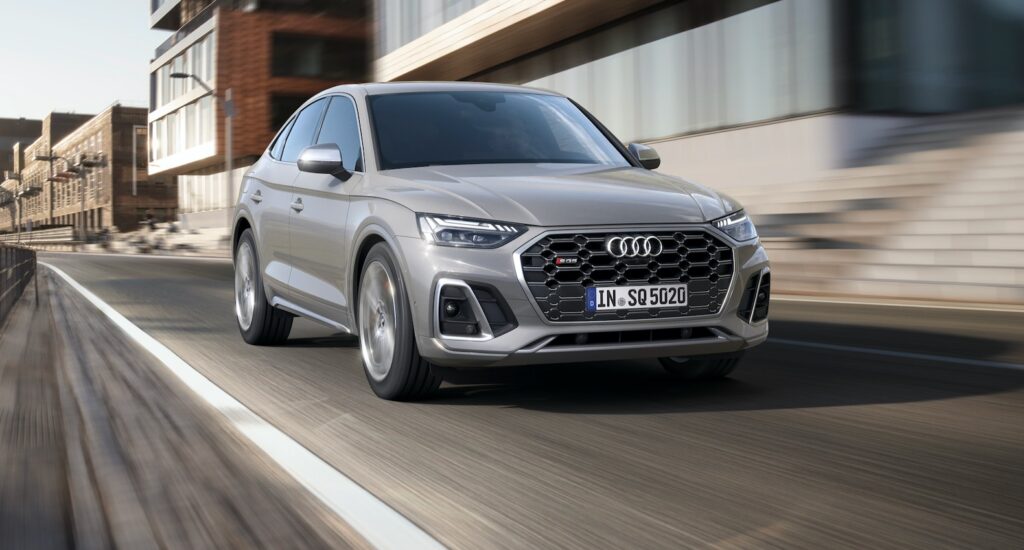 The Q5 doesn't have updated crash-test scores from the NHTSA yet, but the IIHS calls it a Top Safety Pick+, with even its standard LED headlights earning an "Acceptable" rating (top versions have better, "Good" lights). That plus standard automatic emergency braking and a passel of active safety options. All Q5s also come with blind-spot monitors and parking sensors, while Premium Plus Q5s add adaptive cruise control and active lane control. Audi's driver-assistance features give the driver short breaks from the controls and keep the car in its lane, safely behind other vehicles.
The base $45,195 Q5 gets leather upholstery and a 10.1-inch touchscreen with wireless Apple CarPlay and Android Auto. We'd opt for the $50,195 Q5 Premium Plus and its adaptive cruise control and surround-view camera system, then spend for the available 12.3-inch digital instrument cluster and Sportback body. The SQ5 Prestige spins the scale to $66,795.
The base $45,195 Q5 comes with leather upholstery, 18-inch wheels, wood trim, power-adjustable front seats, and a 10.1-inch touchscreen with wireless Apple CarPlay and Android Auto. For $50,195 the Q5 Premium Plus gets adaptive cruise control, active lane control, a surround-view camera system, and can be optioned with Audi's 12.3-inch digital instrument cluster. It's pretty, so we don't mind if you spend $2,700 more for the Sportback edition, but keep in mind it's not available with the plug-in hybrid, which can cost up to $8,800 more than the gas-only models. Hybrids can be fitted with a Sport package with 20-inch wheels, summer tires, and adaptive air suspension, which deliver performance that rivals that of the SQ5. At the top of the range is the SQ5 in Prestige trim for $66,795 which gets the big wheels, sticky tires, adaptive suspension, and hottest powertrain.
When Audi first introduced the Q5 it quickly became one of the segment's best sellers. Attractive styling, refined driving dynamics, and decent bang for the buck all made for a recipe that people couldn't ignore. Now in its second generation the 2022 Audi Q5 has improved upon all of those hallmarks with adding in strong doses of technology and cutting edge powertrains, and now with swoopier Sportback design option. All these improvements keep the Audi Q5 at the top of its class, and our top pick in the class.