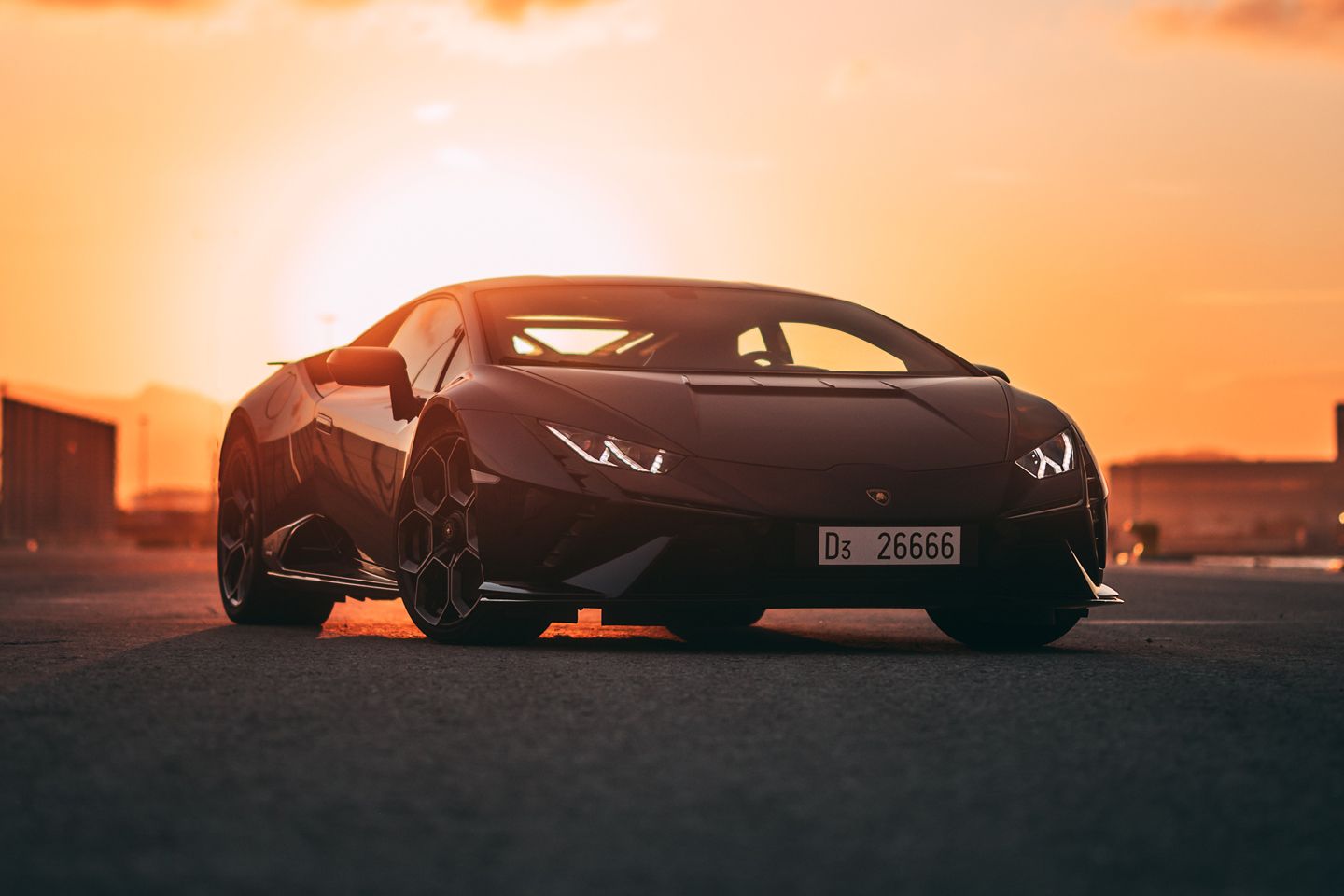 On paper, the Tecnica looks like a medley of all the Lamborghini Huracan best bits. Which, should they all come together, would make for a sensational supercar. This car has the power and gearbox settings straight out of the almighty STO, bespoke aero distinct from the Evo RWD that increases downforce (by 35 per cent) yet reduces drag (by 20 per cent), and a new look with (they say) some influence from the Essenza SCV12. There's not long left for the Huracan, remember, with the final one – and Lamborghini's very last pure ICE car, no less – due at the end of 2022. So this isn't quite the swansong, but if there was a time for the Huracan to be the best it can be, this would be it.  
Now, removing dramatic aerodynamic devices and keeping the wild atmospheric engine is a trick we've seen before, and the comparison between Huracan Tecnica and Porsche 911 GT3 Touring is hard to resist. But while the intent seems similar – even a Huracan like this one is borderline modest against an STO – the Tecnica is about more than simply removing the snorkel and spoiler. The Tecnica gets rear-wheel steer that no other RWD models (bar the STO) gets, as well as its own calibration for the Strada, Sport and Corsa drive modes, modified suspension and traction control tweaks. Lamborghini doesn't use 'medley', because it's an awful word that conjures up Abba at a wedding, but the impression of cherry-picking is palpable. 
And what the on-paper stats can't get across is just how good the Tecnica looks in person. The rear in particular is superb, with the new hexagonal exhaust pipes, diffuser climbing up to meet it and pinched bodywork around the rear tyres (itself leading all the way up to the spoiler) conferring even more attitude. It exposes almost half the rear rubber, so you can see how the wheel is stacked into the arch – and how much rubber has gone this stint. It's really cool, proof if ever you needed it that the Huracan still has stop and stare drama all these years later. The front end might be fussier than a regular RWD, but it's hardly bad; knowing the styling revisions serve a purpose (reducing brake fluid temp by nine per cent and disc temperature by seven per cent, amongst other things) undoubtedly makes them more palatable. The new carbon bonnet and engine cove save 10kg over an Evo, too. Those that like a Huracan but think the STO is a bit much (and even by Lambo standards it is pretty wild) will like the Tecnica a great deal.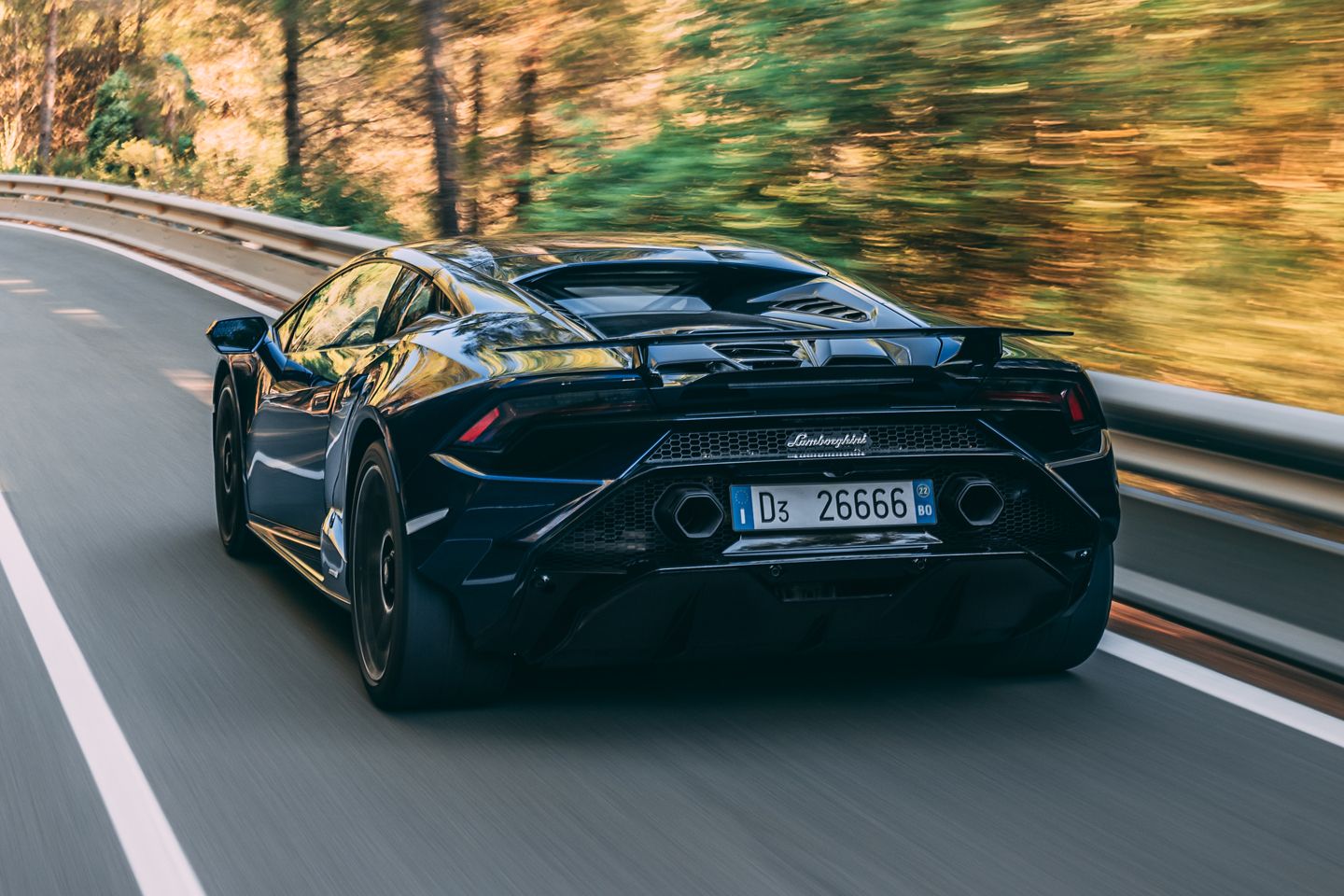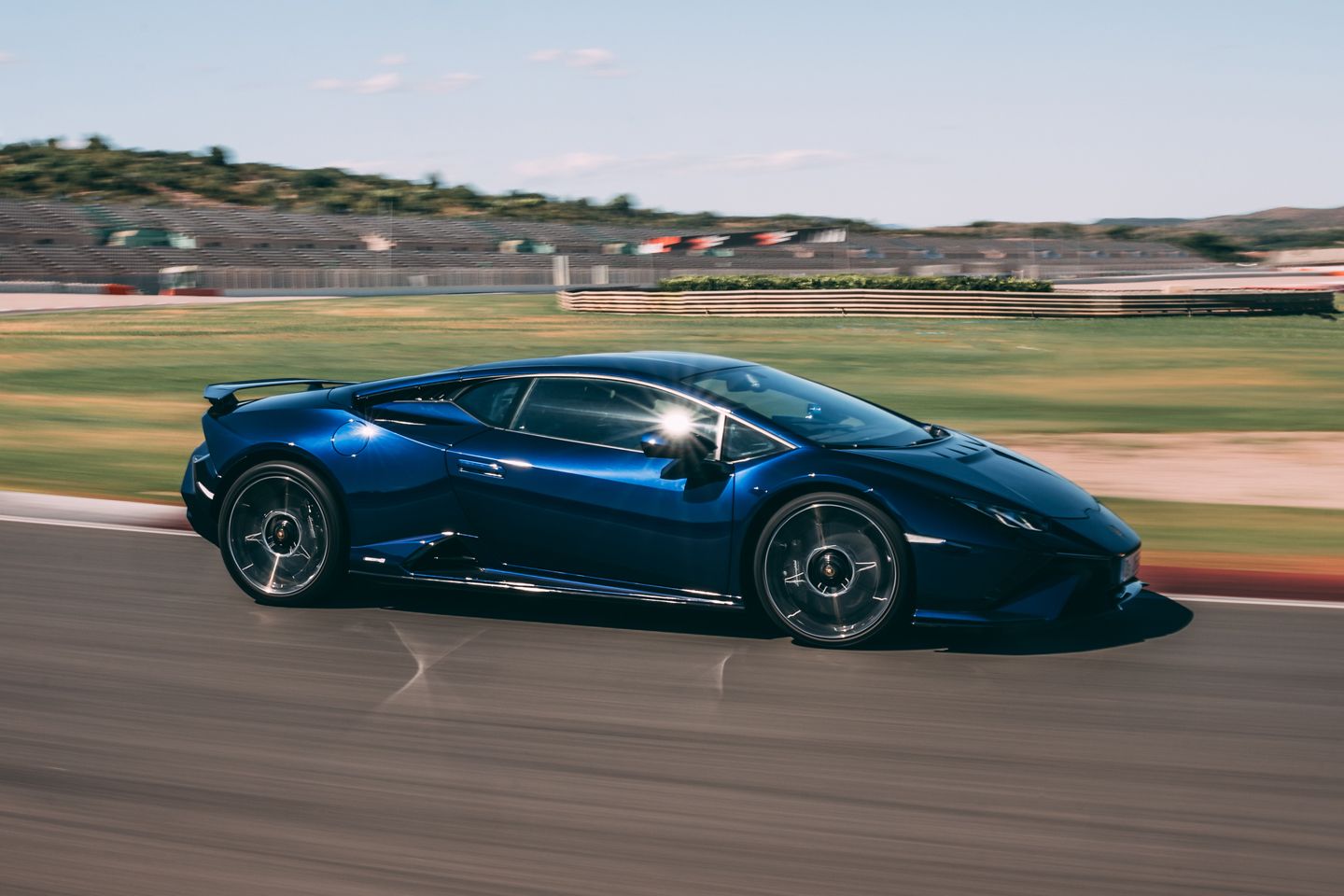 The track test took place at Valencia, which was probably a wise decision: it has a decent variety of corners, but also run off and no scary altitude changes to distract hotshoe journalists. The Tecnica's advantage over an RWD are immediate; although comparing track driving to a road experience months ago is always an inexact science, the tyres used here – Bridgestone Potenza Races, borrowed from the STO – make a big difference. The Huracan's front end has always been the subject of some discussion, but this one must be the best yet; it's direct and confidence inspiring, aided by a bit more weight (presumably from a stiffer sidewall) and the agility of rear-wheel steer in the slow stuff. Nobody is going to mistake this for a McLaren rack, though this must be the best steering Huracan yet. At last.  
Moreover, as you'll likely know, good tyres have benefits all over the circuit. There's composure under braking, better traction (with more feel for the limit) and front-end tenacity that's more than a match for the steering's agility. You point the Tecnica, it goes, then holds on gamely and keeps you up to speed on how much grip is left. The assists lend a smart helping hand, too, meaning the car can continue to up its game as you do.  
Even without a direct back-to-back, the Tecnica feels more urgent and precise than the already scalpel sharp Evo. Lamborghini's racing drivers suggest an STO is around 1.5 seconds faster around Valencia than this Huracan, for reference, with the additional reliance on aero grip keeping tyre temperatures around 20 degrees lower. So, over time, the gap will only widen, though it's hard to imagine anyone being disappointed by the Tecnica's performance on track.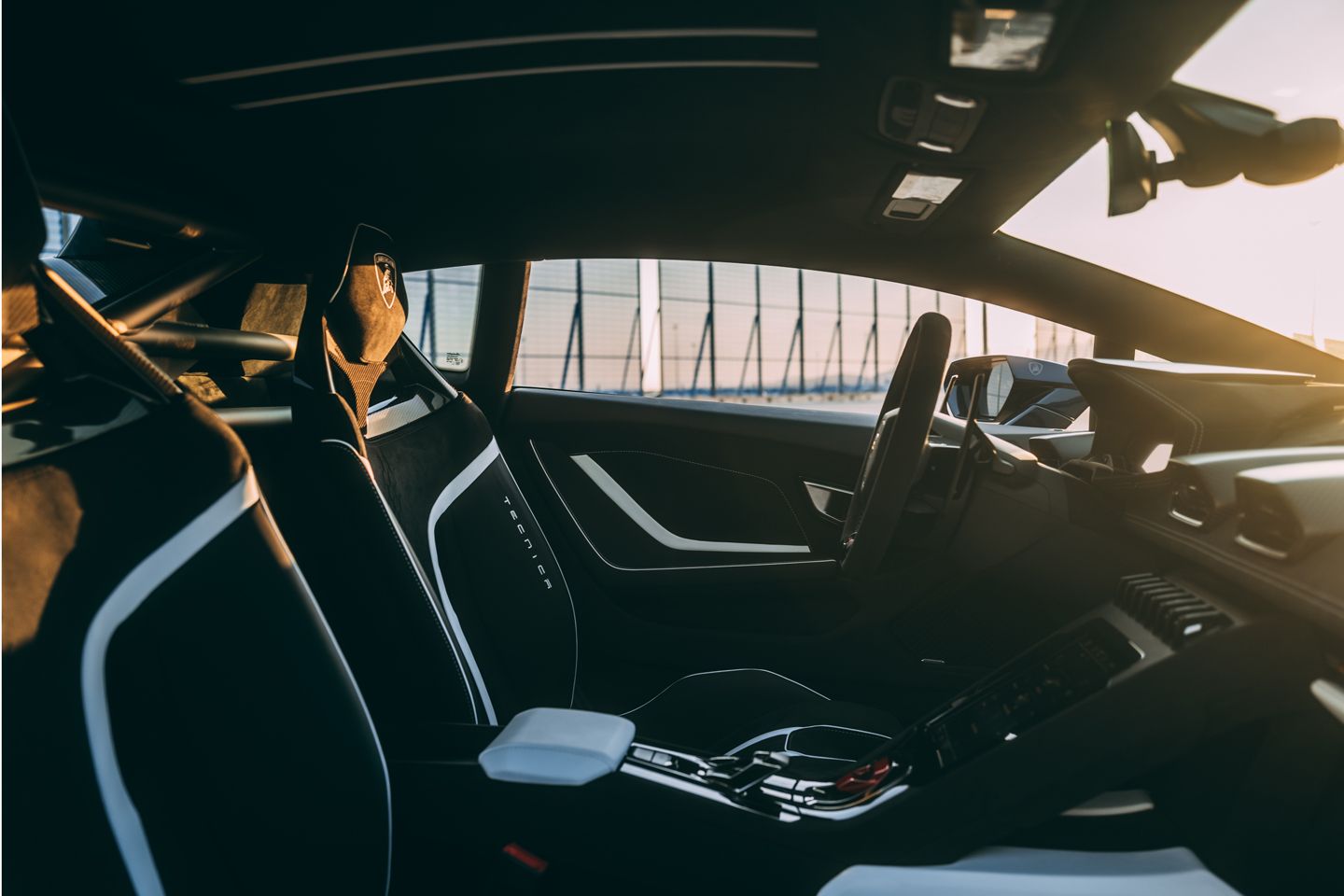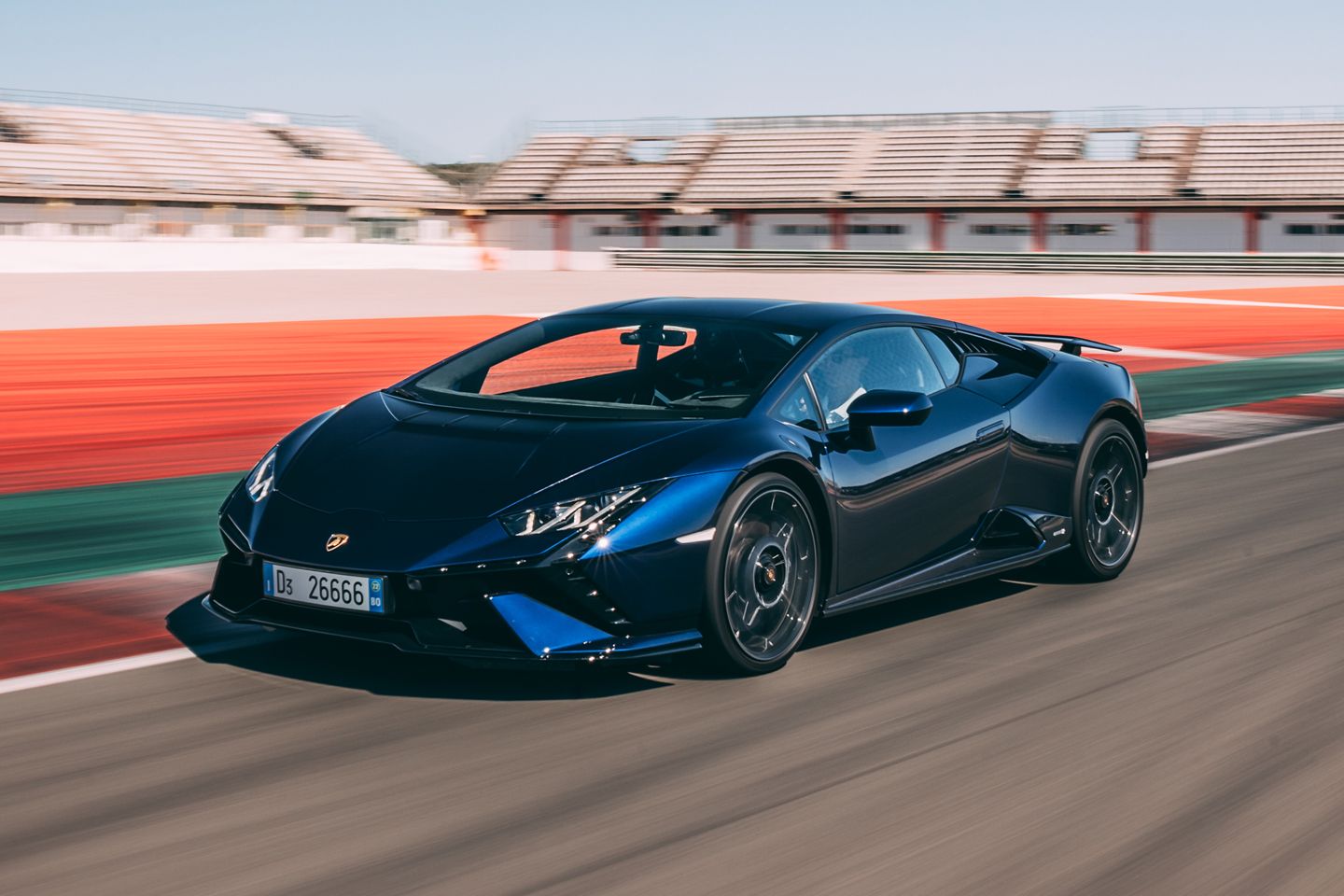 Not with all the Huracan's other best bits intact. It's beautifully damped (even if they aren't the most testing kerbs at Valencia), the brakes are supremely powerful and, of course, the powertrain remains stellar. Wound up to Corsa (because Sport sometimes doesn't deliver a downshift) there is no combination of engine and gearbox more exciting than the Huracan's 5.2 V10 and seven-speed dual-clutch. Even after all this time, to experience that wild rush of power and frenzied howl to 8,500rpm, together with a transmission that shifts like a sequential, is an unmitigated joy. Especially on track, with the opportunity to get the blue shift lights engaged and feel the full fury of an epic engine. You don't need 800 hybrid horsepower when 640hp exhilarates like this. But you would need a keener internal VBox than mine to notice much difference between this and an Evo with 30hp less and 10kg more.  
Accordingly, the Huracan isn't quite perfect on track. Taller drivers may still find themselves squished with a helmet on, which gets uncomfortable. For all the talk of improvements in braking performance (including a five per cent reduction in pedal elongation), it does go longer, sooner than memory suggests a Ferrari or Porsche would – even if ultimate performance seems to stay very high. The intervention of the assists, when it arrives, still feels a little later and not quite so smart as those rivals, too. But we're taking very fine margins here – the Huracan is superb on circuit – absorbing, rewarding and hugely exciting. And you could always ditch the assists if they're really in the way. It's a wonder more Huracans aren't seen on track days, actually, because they're so well sorted – must be those pesky noise limits… 
As on circuit, it takes no time at all on road to establish that the Tecnica is pretty hardcore. It feels much more closely aligned to the feral STO than the more mellow (all things being relative) Evo RWD. Even with the standard Potenza Sports as opposed to the Race rubber, the front end seems pointier and the steering that bit heftier. Though not bad as standard, they're certainly improved here.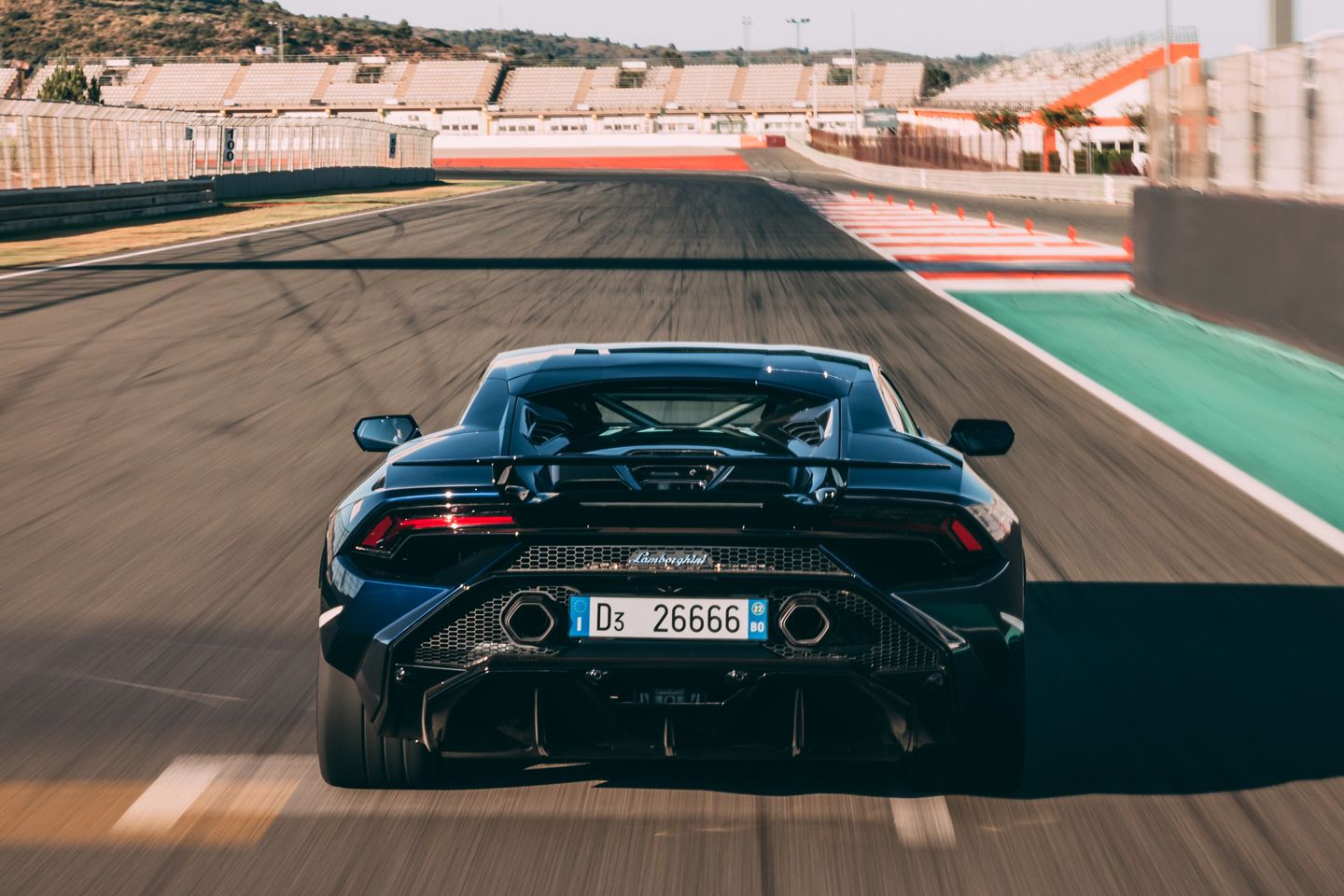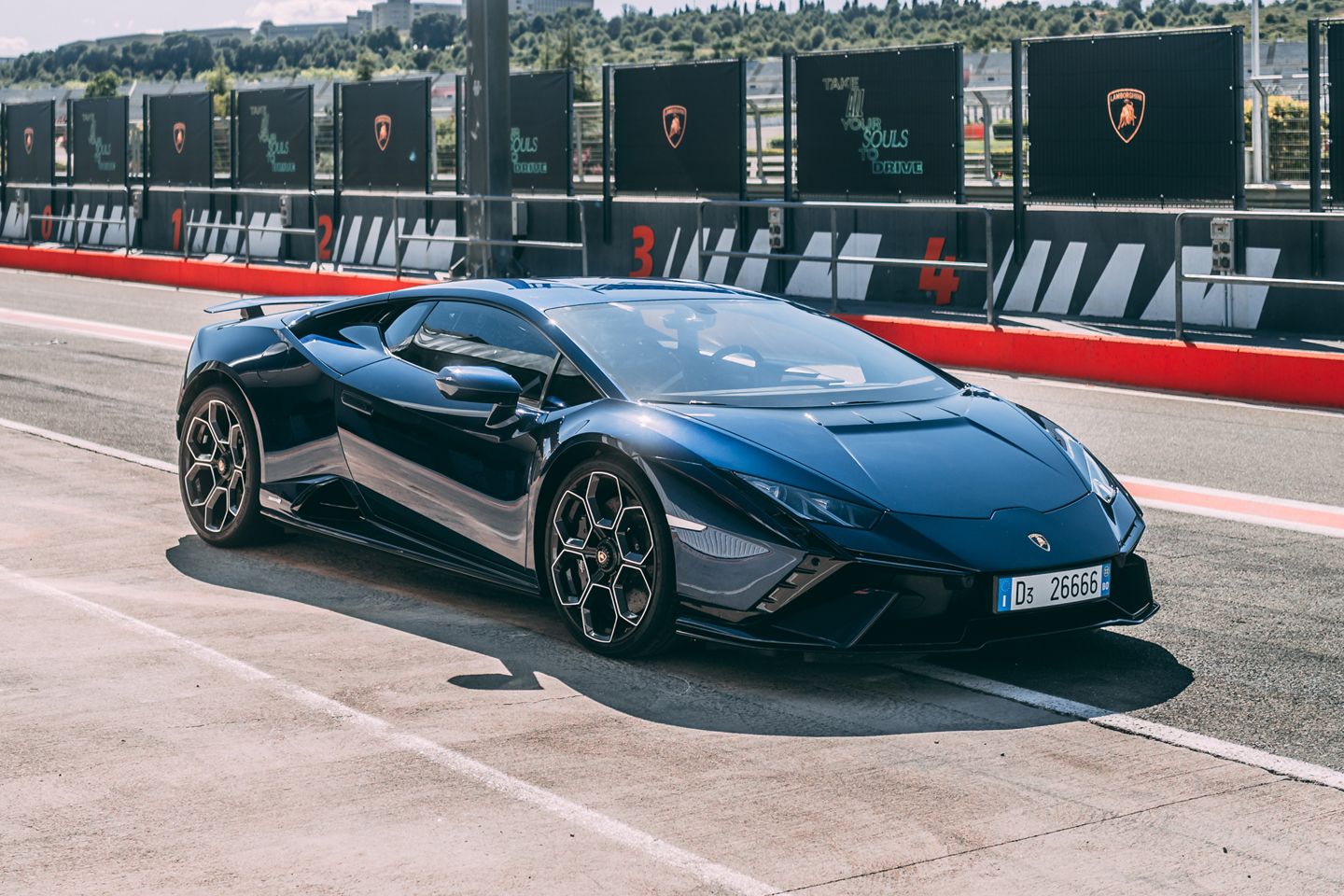 Similarly to the aforementioned Porsche, there's always the feel in a Tecnica of something just a tad more special than standard, regardless of speed or situation. From the way it steers to the way it sounds, this Huracan always offers up a greater sense of connection and occasion than the standard car. Which is some feat given what the benchmark established by the RWD. Where previously you might use Sport on the road for more drama, such is the Tecnica's additional focus and firmness that Strada easily suffices – it's that far on from the other Huracans. Sport and Corsa are so loud that the whole car resonates like a tuning fork to the maniacal buzz of a V10, carbon shelled seats and carpetless floors perfectly amplifying its unmistakeable timbre. Which is fun for a bit, but gets tiresome. The Huracan goes without an individual driver mode, too, and still it frustrates. As the most relaxed setting, Strada will shift up even in manual mode and never thumps the shifts through so emphatically, both issues the more aggressive modes resolve. What you want, between a series of second gear turns at least, is the bap-bap-bap of a limiter (it really does sound brilliant) rather than an auto upshift almost immediately followed by a downshift. Just without the hellraising shriek. Something seemingly so insignificant – adopted by both Lamborghini in the Aventador and rivals many years ago – would make a big difference to the Tecnica experience on the road.  
But it's a minor gripe, really, not being able to pair the snappier shifts with just a tad less V10 blare. Not least because we'll all be clamouring for any noise at all soon enough. File the issue alongside the ceramic brakes that remain grabby when cold, optional carbon door cards that look fantastic but are next to no use (don't get them) and a seat that still isn't perfect. Without doubt a Tecnica on the road is exhilarating, the best a Huracan has been after all these years. Even in Strada the damping is exemplary, with almost unbelievable wheel travel and control for something so low on such large wheels. That combined with the steering improvements means more confidence than ever, which is handy in the most capable non-STO Huracan ever. It's better to drive and better to experience than ever, put simply. 
To call the Tecnica the car the Huracan always should have been would be easy. And, crucially, not quite correct. It might look similar to the RWD but is a tangibly more serious prospect as a driver's car. That said, this car launched originally with the Evo would have addressed lots of those early concerns, the Huracan never fully delivering on its promise until the Performante. Now the range of Lambo V10s is more compelling than ever: supercars don't come much more complete than the Evo, the STO builds on that with awesome track prowess, and now the Tecnica expertly treads a fine line between them – even more rewarding than a RWD without quite the intensity of an STO. If that sounds a lot like the best a Lamborghini Huracan can be, you won't find us disagreeing one bit.  
SPECIFICATION | LAMBORGHINI HURACAN TECNICA 
Engine: 5,204cc, V10
Transmission: Seven-speed dual clutch, rear-wheel drive
Power (hp): [email protected],000rpm
Torque (lb ft): [email protected],500rpm
0-62mph: 3.2 sec
Top speed: 201mph
Weight: 1379kg 'dry'
MPG: 16.9 (STO)
CO2: 331g/km (STO)
Price: £TBC