Once in a great while, your humble author grows weary from seeing the same-old Corvette listings every day on Cars.com, eBay Motors, forum classifieds, and other similar sites. When that occasion comes to pass, I'm forced to go global, and no country – outside of the States – is a richer goldmine for available 'Vettes than our neighbors to the north. Autotrader.ca recently helped me unearth some primo-examples of America's Sports Car that are ripe for import back to their country of origin. Before sharing my best findings with our passionate readers, I had to revisit my original Canadian Corvette piece (if you are interested in bringing one of these beauties home, check that link for full instructions on legally importing a car from the Great White North).

Two things immediately jumped off the page when I found it in my back catalog; 1. Somehow it has been two years since it was published, and 2. The PRICES! I have no idea how I didn't jump on my all-time favorite Corvette, the Inferno Orange Z06 Carbon, for just $40,830! I'll never forgive my admittedly poor 2020 self for not taking a shot on that one! That isn't all, though; that writeup also highlighted an Admiral Blue 2019 ZR1 ZTK for $141,615 and a $54k Z07 Grand Sport! Those three cars alone could be flipped in the current market for a PROFIT of around $180,000; crazy stuff!

Also interesting is the sheer volume of Corvettes available in Canada right now. When I wrote the original post, there were 632 total 'Vette postings on AT of CA. As of writing this follow-up, that number has nearly doubled and currently sits at 1,136! This huge influx could have a lot of causes behind it, but my research revealed a national gas price of $7.87 per gallon in Canada. That translates to $6.05 in US greenbacks and almost makes you feel better about our outrageous domestic average of $4.57! So, expensive gas could be causing good Canadians to make the hard decision to part with their beloved Corvettes, but the inflated prices that people are willing to pay for good used examples right now – Hagerty's Collector Car Market Index just hit a record rating – surely hasn't hurt, either!

One more ado; I usually keep my searches limited to the models that interest me most, so what you're about to read is heavy on manual transmission 6th and 7th-generation Z-branded 'Vettes with a couple of other faves thrown in for good measure. If your taste doesn't quite overlap with mine, you'll need a "postal code" to search for your sweet spot on Canadian Autotrader. These differ from our zip codes, and my go-to alphanumeric is "A1A 1A1," which corresponds to a place called St. John's that splits time between two of my favorite dog breeds; Newfoundland and Labrador (Pro tip: be sure to change your search radius to "National" after you get started because the site defaults to within 100 km (just 62 miles) of A1A-1A1). Now, on to my hand-picked examples that have all been converted to US dollars and mileage for your convenience!

Before we get to individual listings, I have to point you to one major player in this space that deserves a shoutout! A shocking percentage of the cars that caught my eye were listed by Platinum Cars CA of North York. The crown jewels of their goldmine of an inventory are as follows:

2019 Corvette ZR1 – Corvette Racing Yellow, ZTK "High Wing" track package, 7-speed manual. This 755-horse monster has traveled just over 13,000 miles since leaving Bowling Green four model years ago and is currently listed for $191,799.81, which seems like about par for the course in 2022 dollars.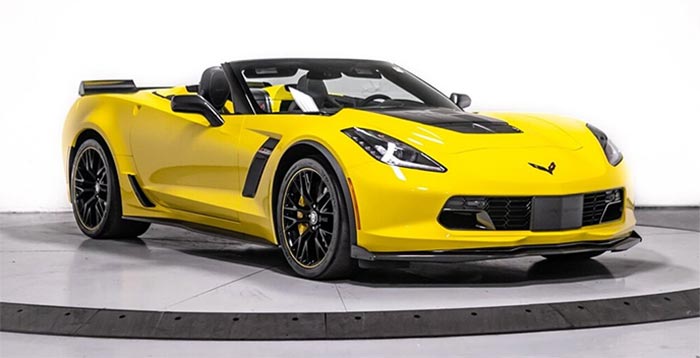 2016 Corvette Z06 C7.R Convertible – The perfect companion to the C7.R-look ZR1 above comes in the form of this topless beauty. Like all members of the C7.R SE family, this one is fully optioned with the Z07 package and top-shelf 3LZ trim. It earns its $115,018.46 asking price with an odometer that will only read 2,943 miles once it is switched back from the metric system.

2013 Corvette ZR1 60th Anniversary Edition – This striped Arctic White over Diamond Blue final-run C6 ZR1 is about as "new in wrapper" as you are going to see. It has under 100 miles on the clock and is being marketed to serious collectors only at an eye-watering price of $176,443.54!

They also have a handful of more affordable C6 ZR1s sprinkled in their Corvette corral, along with an extensive offering of C8s, including C8.R Championship Edition #528. Finally, of note are a 1958 290-horse solid-axle car in the striking color combo of white with silver coves and red interior, a 13k-mile Bright Red over Saddle first year C4 ZR-1, and a Millennium Yellow C5Z with just under 12,000 miles.

Moving on to a place called Manhattan Motorcars in Scarborough, Ontario, where we find another 2011 Carbon Edition Z06. It is number 191 out of 252, and even though it wears the more common Supersonic Blue, this 7,332-mile example is asking more than double the one from the last post. This Z will set you back $98,108, which sounds pretty good for a fully-optioned, limited-run example with 37% higher displacement and a 33% pedal supplement, now that we finally know the going rate for the new '23 version!

There might not be any orange Carbons available, and the 60th Anni ZR1 above is as collector-grade as it gets, but the intersection of the two is where our next car shines. It is an Inferno exterior 2012 ZR1 with an extremely low VIN of 13. It has covered fewer than 3,700 miles in its life, and at $99,814, it looks like a steal next to the striped ZR1 above. What makes it truly stand out, though, is the unexpected red 1ZR interior motif that has to make it a one-of-one build!

I think I've met my commitment to 2006-19 Z cars, so we will conclude with a pair of Grand Sports, starting with this specimen from 1996. It is great to see that even the frigid Canadian winters haven't stopped this gem from amassing milage. It is on the brink of 100k km, which is an impressive 61,426 miles! That number means it is one of the better buys on a 1 of 1,000 C4 swan song out there. Bring this one home for just $27,641! Finally, we have a 2017 Collector Edition GS Convertible for sale in Calgary. The stunning Gray over Tension Blue drop-top has under 8k miles, can be yours for $80,534, and is the perfect companion for a mid-July transcontinental road trip home!

If you decide to pull the trigger on these or any other Canadian Corvettes, don't forget to follow the proper import steps and be sure to share your adventure with your favorite bloggers, we can't wait to hear from you!

Related:

Corvettes for Sale: Canadian Estate Sale Offering Multiple Corvettes and Other Cool Vehicles

Corvettes for Sale: Psychedelic 1961 Corvette Found North of the Border

How To Import From Canada And The Corvettes That Will Make You Consider It